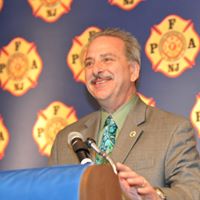 The IAFF is deeply saddened by the untimely passing of Professional Firefighters Association of New Jersey (PFANJ) President Dominick Marino on April 14.
"Brother Marino was a great union leader who I was proud to also call a friend," says General President Harold Schaitberger. "With Donny at the helm, his members were always rest-assured that he would continue to fight with everything he had for better occupational disease protections, working conditions and benefits. Our thoughts and prayers are with all PFANJ members and Marino's family."
"Donny was an easy guy to love," says General Secretary-Treasurer Ed Kelly. "His dedication to the union helped thousands of IAFF families, his dedication to his football teams molded hundreds of boys to men, but his devotion to his family was evidenced by his relationship with his best friend, his daughter, Rachel."
"President Marino always was a tireless and passionate advocate for New Jersey's fire fighters, paramedics and EMTs," says 1st District Vice President James Slevin. "He spent his last moments fighting to make sure PFANJ members stayed safe during the COVID-19 pandemic. Marino and his contributions will never be forgotten."
Marino began his fire service career on July 24, 1986, when he joined the North Bergen Fire Department and became a member of North Bergin Local 1387. Always dedicated to his local and its members, he was soon ready to do more. In 1992, he was elected president.
In 1999, the New Bergen, West New York, Guttenberg, Weehawken and Union City fire departments merged to become North Hudson Regional Fire Rescue. Accordingly, Marino became a member of and was elected vice president of the newly formed North Hudson Local 3950. After eight years in that position, he was elected Local 3950 president in 2007.
He retired from active duty in 2010; his last assignment was Engine 13. However, he remained local president until the following year.
Meanwhile, Marino was already serving his fellow New Jersey fire fighters and paramedics at the state level. He served for many years as the treasurer and vice president of the PFANJ before elected president in 2008.
"Donny was a quiet, but effective leader. He never backed down until victory was reached," says PFANJ 1st Vice President Steve McConlogue, now acting PFANJ president. "One of his proudest moments as president was in July 2019 when Governor Phil Murphy signed the Thomas P. Canzanella 21st Century First Responders Protection Act into law. It gave all of us an added layer of protection if we get sick on the job."
This law, named after Marino's predecessor, reformed New Jersey's workers' compensation law to create a rebuttable presumption of coverage for public safety workers for certain illnesses, most notably cancer.
Marino held a position on the New Jersey AFL-CIO Executive Board for more than a decade and served on many state-level boards and commissions over the years, including the Saint Barnabas Burn Foundation and the Muscular Dystrophy Association (MDA).
In addition to his commitments to the fire service and organized labor, he was a dedicated football coach. Marino served on the staffs of North Bergen and Brick Township High School football programs for more than 30 years.
He was a devoted family man. He and his wife, Ellen, have three children: Amy, Thomas, and Rachel. Marino was also the proud grandfather to two grand-daughters, Taylor and Madison.